Engagement rings have long been a symbol of love and commitment. In recent years, couples have begun to experiment with metal combinations in their engagement ring design to create something unique and special.
Mixing metals can be used for a variety of creative effects that are sure to stand out from the crowd. From traditional gold and silver bands to cutting-edge blends of rose gold, yellow gold, palladium, platinum, tungsten carbide, titanium, and more – there's no shortage when it comes to creating one-of-a-kind designs.
Learn about the latest trends in mixing metals for your engagement ring design and discover how you can make your unforgettable statement piece at the same time!
Combining the Beauty of Multiple Metals into an Engagement Ring
When it comes to creating the perfect engagement ring, many couples are turning to mixing metals as a way of expressing their unique style. Combining multiple metals into one piece allows for an endless array of design possibilities, allowing individuals to craft something truly special and meaningful.
Whether you decide on gold or silver, rose gold or platinum, combining different metals can create an engagement ring with unparalleled beauty that will last a lifetime. By incorporating several colors and tones in your ring design, you can bring together a spectrum of elegance and strength for an unforgettable symbol of love.
With so many options available today when it comes to metal combinations for Engagement Rings, there's never been a better time to get creative with your jewelry designs!
Exploring New Ways to Create Unique and Stylish Engagement Rings with Mixed Metals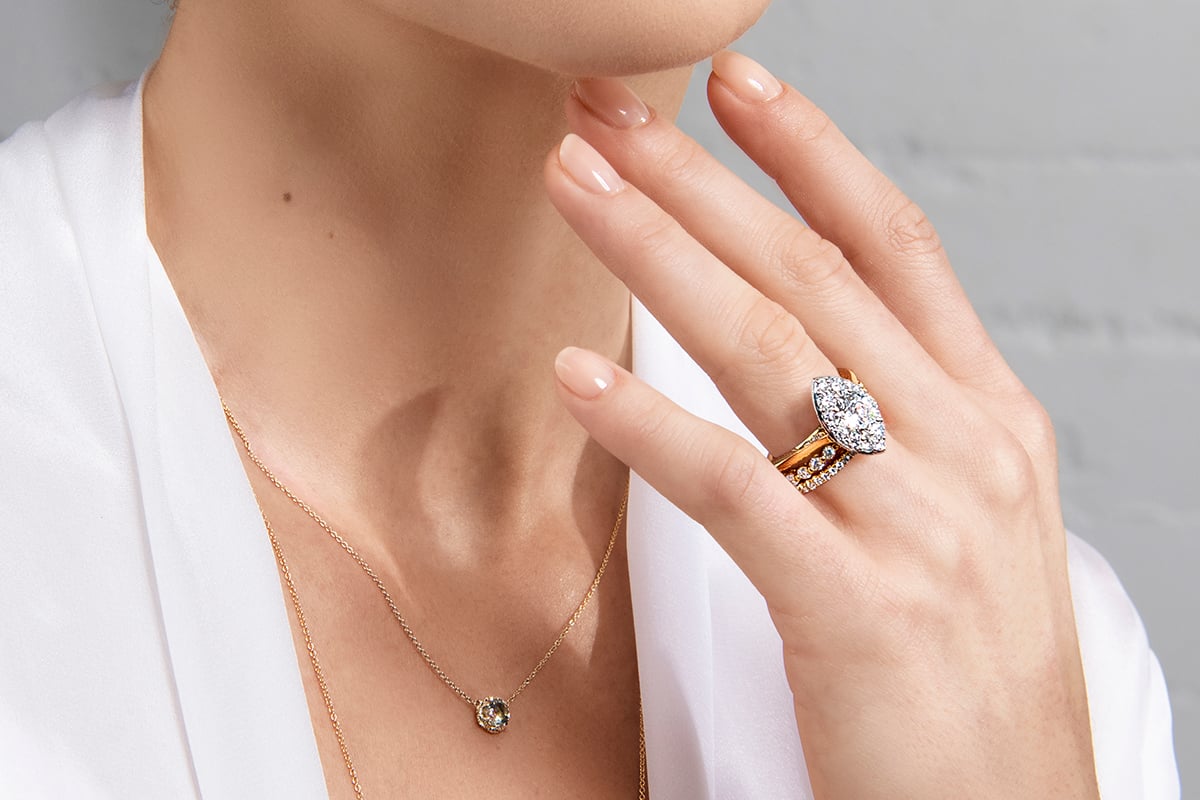 Mixed metals and unique engagement ring designs are becoming increasingly popular, offering couples a stylish way to express their love. From classic yellow gold bands with rose gold accents to daring combinations like stainless steel and titanium, the possibilities for personalization are nearly endless.
For those looking to make a bold statement, mixing different types of metal can create an eye-catching look that is both modern and timeless. For instance, sterling silver paired with white or yellow gold is perfect for adding subtle sparkle without overpowering the design.
Similarly, platinum blended with warm tones like rose or champagne gold adds a touch of elegance while still allowing the other colors in your ensemble to shine through. Designers are also using mixed metals as a canvas for originality; engravings featuring intricate patterns resembling nature's beauty have become incredibly popular among brides and grooms alike! In addition, customizing jewelry by incorporating birthstones into the design gives it even more meaning each piece is truly one-of-a-kind.
Exploring new ways to create unique and stylish engagement rings with mixed metals has never been easier or more exciting! With so many options available today, youre sure to find something that reflects your style – whether it be traditional or trendsetting!
Mixing Metals: A Guide to Crafting Unique Engagement Rings
Mixing metals is a great way to create unique and one-of-a-kind engagement rings. When done right, it can add structure, texture, and elegance to any design.
It's no wonder that more couples are turning to this trend for their special day! Whether youre going for an edgy look or something more classic, mixing different types of metals in your engagement ring is the perfect way to make a statement. When designing with multiple metals, there are several things to consider.
Different types of metal have different properties – such as color saturation or hardness – so it's important to choose the right combination that will work best together. You have the option of choosing two contrasting colors like rose gold and yellow gold or even mix warm tones with cooler whites like platinum and titanium.
Additionally, if you want something extra special then consider adding colored gemstones into the mix! Another factor when mixing metals is how they interact with each other over time which could affect the overall durability of your piece. This means making sure that whatever type of metal you select won't react badly when exposed to air or water; some combinations may require additional maintenance compared to others but don't let this put you off exploring all options available!
Finally, keep in mind that certain styles pair better with specific metal choices than others due to weight differences between them so do some research beforehand on what would work best for your design ideas – after all, it should be comfortable on her finger too! Experimentation is key when creating beautiful custom pieces because it allows you to express yourself through artistry while also ensuring a long-lasting product full of character & charm: exactly what she deserves on her wedding day!
Playful Possibilities: Design Ideas for Mixing Metals in Your Engagement Ring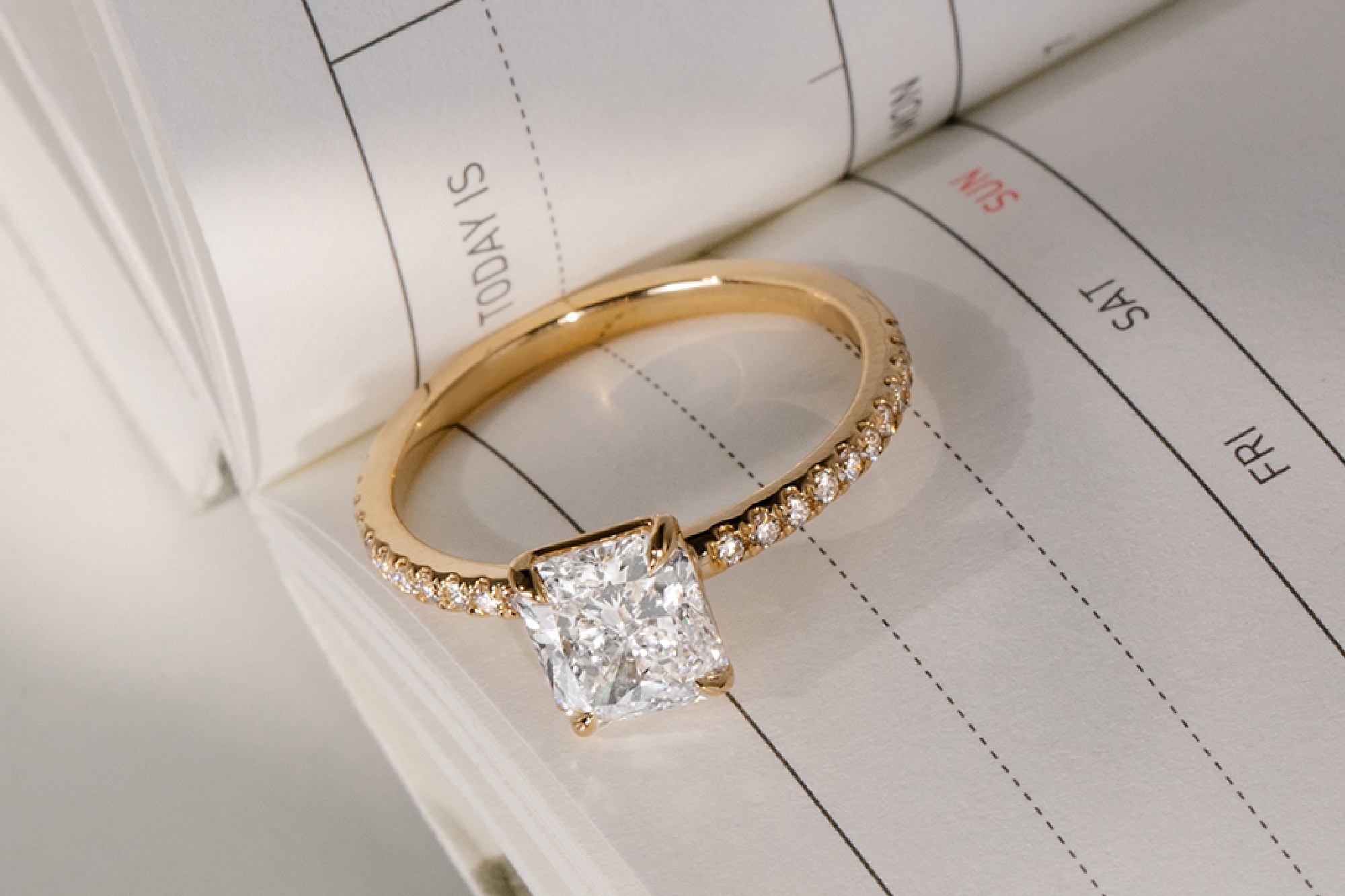 Mixing metals in engagement rings is a great way to add unique touches to your special day. With an endless combination of metals, from traditional gold and platinum to modern alternatives like rose gold and titanium, couples can create a truly personalized symbol of their love.
There are many different ways you can mix metals in your ring design for playful possibilities that will make it stand out from other designs. For those who want something truly one-of-a-kind, consider mixing multiple colors with various metal tones or textures for stunning visual effects.
Try combining yellow and white gold or adding satin finishes and milgrain edges for extra texture. Another option is pairing precious gems with contrasting colored metal settings – like emeralds set against yellow gold – which adds a touch of vintage glamour to the piece.
Finally, if you're looking for something more daring or edgy, try using two bold colors such as pink and black diamonds set on either side of an antique grayed gunmetal band! The only limit when it comes to designing your perfect engagement ring is your imagination; so explore all the creative possibilities available with mixing metals!
Creative Metal Combinations for a One-of-a-Kind Engagement Ring
When it comes to engagement rings, unique and creative design combinations are the perfect way to stand out from the crowd. One popular option is to mix metals for a truly one-of-a-kind look.
This trend has been embraced by designers across the globe who are looking for ways to create something that's entirely their own. From gold and silver accents mixed in an artful combination to bolder choices like rose gold paired with yellow or white diamonds, there's no limit when it comes to creating your ideal ring. Mixing metal tones can be used to add subtle flair or make a statement depending on your personal style preference and choice of materials.
For example, two-tone bands featuring both warm and cool colors can bring balance between different elements while adding visual interest as well. If you prefer more traditional designs, consider pairing white gold with platinum for a classic look that will never go out of style.
Or if you want something truly unique why not try mixing yellow and pink gold – this eye-catching blend creates an elegant contrast that is sure to turn heads! No matter what type of metal combination you choose for your engagement ring design, remember that these pieces should reflect your personality and taste – so don't be afraid to take risks when creating yours! With endless possibilities available today now is the time to get creative to craft a piece that you'll treasure forever.
Conclusion
Engagement rings are an important part of any wedding, and the design options have come a long way. Mixing metals is one of the latest engagement ring design innovations, allowing couples to create a unique look that reflects their style.
With this approach, you can mix white gold with rose gold or yellow gold for a truly personalized touch. No matter what type of metal combination you choose for your special day, it will be sure to make your engagement ring stand out from the crowd.